When renovating a bathroom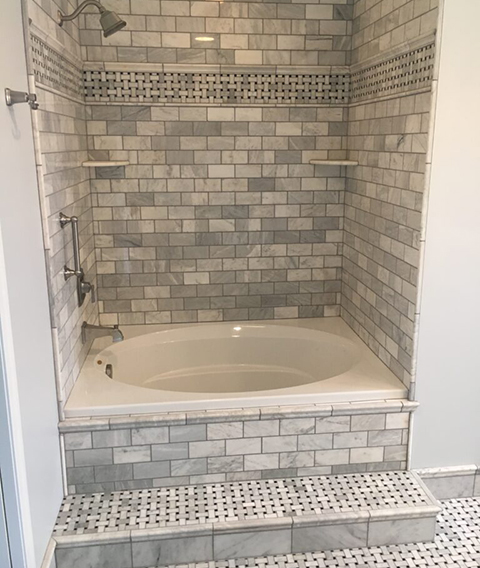 There are various, sometimes unexpected, factors that go into bathroom remodeling planning. A bathroom remodeling project is no small undertaking in terms of both money and time spent on the job.
Before you start your bathroom remodeling checklist, there are several aspects to consider: budget, design, & plumbing.
Safety ~ Slip resistant floor: The bathroom is a wet room. When picking a flooring for your bathroom remodel, it's wise to choose a slip-resistant material to avoid falling when getting out of the shower. There are many beautiful and inexpensive flooring options that fit with any design style. If you live in a colder region, installing electric heated flooring under the tile can make your bathroom warm and relaxing year-round.
You want your remodel to work for you for many years to come so think about grab bars to provide stability while in a shower as well as a seat. There are many options to choose from. Discuss your ideas with us and we will be happy to offer suggestions.
Cabinets: Storage in the bathroom is essential to keeping valuable counter space clear and clean. Invest in quality cabinetry that won't warp in the humid, moist bathroom environment. These drawers and cabinets will be used daily, so quality materials and craftsmanship are important to maximizing the lifespan of these features.
Countertops: A low-maintenance countertop option in the bathroom is granite. Although you might have to splurge a little on this material, it's an easy way to make a statement and can really dress up any bathroom. Not only is the material easy to clean, but because bathroom counter space is typical less square footage, the investment is less pricey than what is typically spent on kitchen counters.
Paint vs Tile: Depending on your bathroom remodel budget, you can either go with tile on the walls or a fresh coat of paint for a clean look. To save money, choose to tile a targeted space such as a vanity backsplash or shower walls. If you don't have room in the budget to add tile, invest in high-quality paint that will keep out moisture and prevent mold and mildew from growing.
Lighting: When choosing lighting for your bathroom remodeling checklist, opt for color-corrected "daylight' fluorescent, LED, or halogen for a more natural white light. This softer lighting will make grooming and makeup application easier 一 as it is best done in more natural lighting! Consider layering your lighting with task lighting, ambient, accent, and decorative lighting that will dress up your bathroom and banish any unflattering shadows.
Under cabinet plumbing: Depending on what style of sink fixture and cabinetry you choose, it could affect your plumbing. When installing a new vanity, decide if you're willing to reconfigure the plumbing that connects to your sink. Bathroom remodels can quickly be derailed by pipes that protrude too far into a vanity's undercarriage. During bathroom remodeling planning, make sure to plan around your existing plumbing or budget for plumbing reconfiguration.
Budget Considerations: Add a little more than you think you need ~ When it comes to plumbing, it often seems that what can go wrong, will go wrong. There's lots of room for plumbing issues to arise and increase the cost of your bathroom renovation, so it's smart to leave a cushion in your budget for any surprises.
Although you can research the average bathroom remodeling cost for your area, every remodeling project is unique. How much a homeowner actually spends will vary depending on the size of the space, the intensity of the project, and the quality of materials used. Before starting your remodel, examine what you think you can spend and set realistic expectations for yourself.
The Onyx Collection: The Onyx Collection manufactures shower bases, shower pans, tub-to-shower conversions, lavatories, tub surrounds, fireplace hearths, slabs, seats, trim and other shower accessories to your specifications in almost any size, shape, and color, for your new or remodeled bathroom needs. The products are available through us for your bathroom remodeling needs.