When you are ready to replace or have a new deck, consider:
Fasteners:
Trying to save money with low-quality screws is one of the biggest mistakes you can make when building a deck. Low-quality screws will corrode, discoloring your deck and shortening its life, particularly with pressure-treated wood. Stainless-steel or coated screws, specifically made for pressure-treated wood, will resist corrosion and extend your deck's life.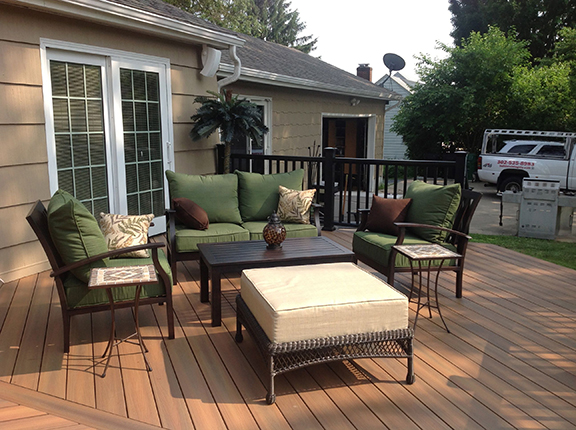 Options:
Homeowners have more decking choices than ever before. For fans of real wood, pressure-treated, cedar, and redwood are good, traditional choices. But hardwoods are coming into the picture, and several choices are available. Their longevity puts them in a league with composites, and they offer a luxurious, rich appearance you can't get with other decking. They are more expensive than most other woods.
For those searching for something different, composite decking and other synthetic materials are revolutionizing the industry. These products are as close to maintenance-free as you can get, and they last decades. They cost more than most wood, but the payback comes with reduced maintenance. The look is different from real wood, but some of the decking material we use looks like wood. We have built several decks with Horizon Decking in Ipe.
Size:
Consider size of the deck. Don't think smaller means less $$$. Adding the extra foot or two needed to have a roomy deck doesn't add a significant amount to the final cost. You still need the permit, cement, labor, etc… a few extra fasteners or boards is not going to blow your budget.
Railings:
Railings have taken deck design to new levels. With choices such as glass, metal, vinyl, composites, and cabling, alternatives to wood railing can have a tremendous impact on the look of your deck. If railings are not needed… consider opening up your deck to the view. Railing isn't usually required if your deck remains below a specified height. (Check local codes–it's often 18 or 24 inches.) One alternative to railing is stairs that run the width of one or more sides of your deck providing an elegant transition to your yard.
Color:
Most homeowners carefully coordinate the color scheme of their homes' exteriors, yet many don't even consider a decking color other than brown. With today's selection of stains and decking, it's easy to find one that complements your home's exterior. The right shades can mean the difference between a deck that looks like a stuck-on foreign object and one that's a natural extension of your home.
Something Different:
Consider a deck with unusual angles or even curves. It requires more labor, but it can turn a common rectangular deck into a unique architectural feature.
Details:
Small touches make your deck a relaxing place to hang out. Lighting, a sound system, planters, a fan, perhaps a built-in bench or two, can turn a drab deck into a desirable destination.
Think about these amenities when you plan your deck, rather than forcing them in after you're finished building. During construction, you can hide wires and attach structures with relative ease.