Key Ingredients for a Kitchen Remodel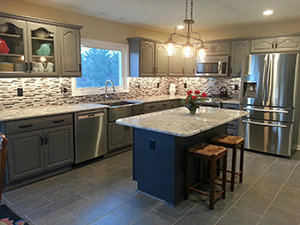 Here are some key ingredients for a kitchen remodel. Clients often become overwhelmed with the many selections that come along with a kitchen remodel. Use this list as a guideline for what you will need to consider for your project, and start a wish list of your own.
Appliances: Research appliance makes and models. Your choices will have a big impact on the design of your kitchen and the overall budget. We can also recommend appliances that fit your needs and suit your budget.
Cabinets: Think about what appeals to your tastes, functionality and the storage you need. Collect magazine pictures that catch your eye, and search the web for ideas.
Countertops: There are numerous choices when thinking about countertops. Natural stone like granite and marble are used most frequently, as well as man-made quartz products. Concrete provides an interesting alternative with a wide range of custom finishes. Solid surfaces and even today's laminate styles offer great looks for a budget friendly choice.
Flooring: There is a wide range of materials to choose from when selecting flooring. Some of the options include, wood, ceramic tile, vinyl, laminate, concrete and carpet. Other materials used are granite, bamboo and marble. Flooring should not only be attractive and flow nicely with the rest of rooms, but functionality and ease of cleaning are also important to consider.
Galley or Gathering Space: Cabinet layout is the single most important design element in a kitchen. Choosing the right layout for your space comes from careful planning within your wall space. To achieve extra room an option is to extend the kitchen by either adding an addition or reconfiguring some existing space in the home. We can assist with your space planning and reconfiguring existing space to provide better functionality for your family's needs.
Islands and Peninsulas: Islands and peninsulas are the work stations of a kitchen. It's often the area where people gather as well. Think about how you would like this area of the kitchen to function for storage, entertaining and as a work station.
Highlights of the Kitchen: Highlights are items you add for aesthetics like pendant lighting, glass cabinets, custom tiles on backsplashes, built-ins or any other custom design features.
Lighting: Lighting is essential in a well functioning kitchen. Consider natural sunlight in your plans. If your kitchen needs more sunlight consider adding a skylight. Fixtures that perform well in the kitchen are pendant lights, under cabinet units and recessed lights.
Sinks: Sinks are the most important fixture of a kitchen. Choose them wisely. Consider depth, faucet styles, utility and ease of cleaning.